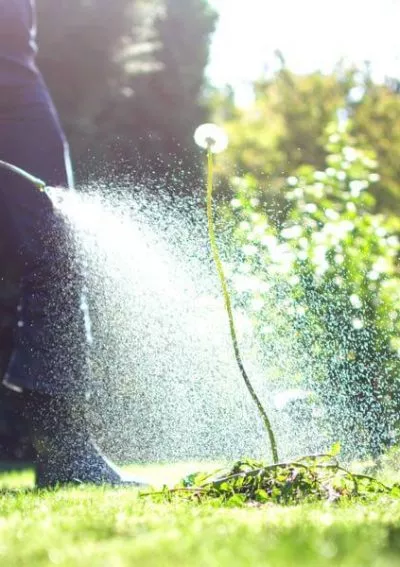 Roundup, developed and produced by Monsanto (now Bayer) is the most widely used herbicide in the US. Its use has increased 100-fold since 1974 when it was developed for agricultural and landscape use. As a result, there has been an appearance of glyphosate-resistant weeds resulting in more and more application of the chemical and also the development of GMO Roundup-resistant crops.
As with drugs, chemicals have their side effects, among them harm to pollinators, pollution of soil and water, and cancer in humans and other animals. There has been a plethora of lawsuits in this country against Bayer, the plaintiffs linking cancers they have suffered from Roundup use. Most European countries have banned it totally.
Ironically there are safer, cheaper alternatives to use even in organic gardens. Here are some…
Learn to live with some weeds. What is the big problem with a few dandelions in your lawn?
Use solutions made of kitchen vinegar, soap, and salt- there are lots of recipes to be found online.
Use 30% industrial strength vinegar
Hand dig them
Burn them with a weed burner
Apply a thick layer of mulch (my favorite prevention technique)
Use a commercial solution such as "Deadweed Brew" (made from caprylic acid, derived from coconuts) or Weed Slayer (derived from clove oil and molasses.) There are others on the market as well. I found them no more expensive than Roundup and often cheaper. They also can come in concentrated form making their use even more economical. I tried Deadwed Brew and found it more effective than Roundup.
For a more indepth look at Roundup and safe organic alternatives see this article.
Happy healthy gardening!